03 February, 2022
What are the main advantages of Bulk SMS services for hospitals?
Today, the healthcare industry has gained a prominent role in society. By making use of the Bulk SMS services, it is easy and convenient to run the hospitals efficiently and convey alert messages to their patients without any inconvenience. By using the Bulk SMS platform almost all the hospitals can make effective communication with their patients. Bulk SMS services will be broadly implemented as a medium of enhancing communication between the patients and doctors. Here, the information will be sent directly and quickly to the mobile phones of the patients which they can read immediately. Bulk SMS is an effective method to interact with the patients and the hospital employees. It is essential for the healthcare industry to have a good relationship with their patients even after their recovery.
Main advantages of Bulk SMS services for hospitals
Many hospitals are utilizing Bulk SMS services in order to interact with the patients and other medical staff. There are various advantages of Bulk SMS services for the hospitals. Let's discuss the major advantages of Bulk SMS services for the hospitals.
Appointment reminders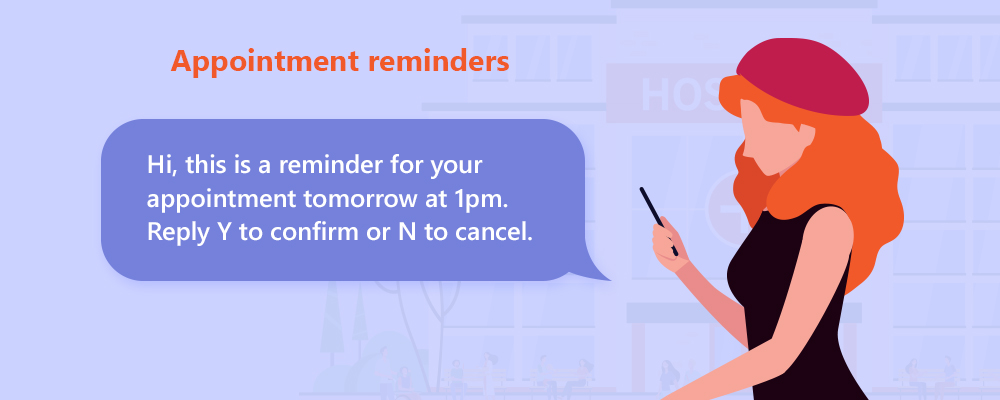 It is very much essential for scheduling hospital appointments for all the patients. Also, it will be more annoying to experience no-shows or any missed appointments. You may even use Bulk SMS in order to schedule a notification or reminder to make your patients remember their turn to visit the hospital on a specific date.
By using the Bulk SMS services, you need to prepare a relevant text message for the entire week that can be sent automatically on the required day where the appointment has been scheduled. In some issues where an appointment needs to be cancelled for one reason or the other, a text message will act as an ultimate way of communicating with all the patients.
Health and diet tips information
Things will consistently keep evolving in the medical sector. There will be certain types of medications a patient can use a few years back but if utilized now may be not good for their health. Utilize Bulk SMS in order to alert them. Even most of the health care providers as well as hospitals send monthly, weekly, daily, bi-weekly, etc. health tips to all the patients. This may go a long way to enhancing the overall health of the patients.
Recruitment
The hospital may equally utilize Bulk SMS services in order to communicate job vacancies, conduct training sessions, and interviews for the newly joined staff. Bulk SMS services are an ultimate way in order to make people aware about the job vacancies that are available in your hospital.
Invitation to seminars or conferences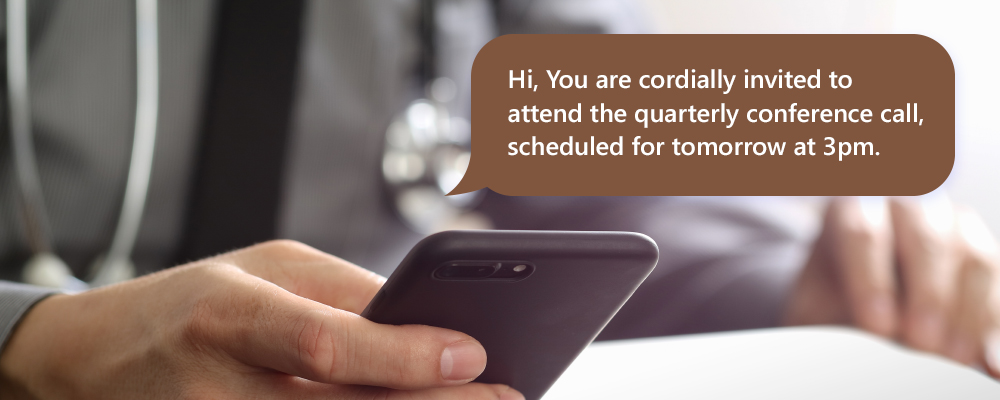 A seminar is a kind of instruction provided during the academics at any academic organization or even provided by a professional or a commercial organization. Invitations that are provided to the health-related seminars will be sent to the patients, hospital staff, as well as invited guests by making use of the Bulk SMS services.
Greetings
Make your patients understand that you always think about them and care for them by sending your patients holiday wishes, festival wishes, and birthday wishes by making use of the effective bulk SMS services. You need to do this in order to maintain an effective relationship with all your patients. With our SMS platform, we will extend our assistance to make you enhance and strengthen the relationship with all your clients. Let them understand that your hospital is very much concerned about their well-being.
Internal communication
Bulk SMS services are an effective approach for communicating internally with your hospital staff. By making use of the Bulk SMS services hospitals may update shift schedules or inform staff about any emergency updates. They may also notify immediate alerts and payment notifications to the staff and always keep them informed about the upcoming activities. Bulk SMS is a great way to organize staff and provide all the required updates for them so that you can always obtain better results in a progressive way.
Appreciation
Most of the hospitals do not care about appreciating patients for their patronage which is also worth considering. You need to implement it and stand out from others. You can easily achieve this by making use of the bulk SMS services. It can be done by sending all your patients thanks messages by thanking them for all their support and patronage.
Conclusion
Nowadays Bulk SMS services are being used in almost every industry including hospitals and healthcare organizations. AdvantaSMS is the leading Bulk SMS service provider with a great reputation of offering cost-effective Bulk SMS services for hospitals and medical professionals helping to communicate well with the patients and send all the emergency notifications.